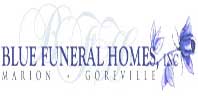 With locations in Marion and Goreville, Family is the foundation upon which our funeral home was built we are a family owned full service funeral home with a compassionate & caring staff, comfortable & warm atmosphere with a full selection of services & merchandise.

We provide services that families desire to celebrate the life of their loved one.
Enjoy our warm and caring atmosphere where no detail is too small or too large for us to handle.
While we know that we cannot serve everyone, we hope that families who have chosen us will refer us to their friends and neighbors because of the excellent service we have provided them
Visit our website http://bluefuneralhome.com
Blue Funeral Home (Marion)
Blue Funeral Home (Goreville)