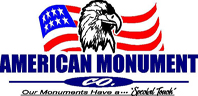 "Our Monuments Have a Special Touch"
Welcome to American Monument Company.  American Monument Co. is a Marion Illinois based manufacturer of unique, professional and affordable monument stones. Founded in 1942, American Monument Co. has been serving our area and its citizens with pride and honor.
Our company offer a wide selection of granite monument stones in various styles and colors.We have a large inventory of monuments for you to choose from for your loved ones. We will work with you to find the best monument.
American Monument Co. was bought by William J. Patterson in 1988 from Harold Adams who had been in the monument business for over 40 years. Mr. Adams continued to stay with the company to train their son, Scott Patterson.
In 1998, Scott and Tammy Patterson along with their 2 children became the owners of American Monument Co.
Visit our Site at  http://americanmonumentco.com/
American Monument Co.
306 S Court St
Marion IL 62959
Tel: 618 993-8968
Fax: 618 993-8969